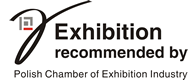 Companies which joined us in 2018:

07.06.2018
As early as in autumn, from 30 September to 4 October the next edition of POLAGRA TECH fair will take place on the premises of Poznań International Fair. This year, two exhibitions will be held within the Fair: the FOOD TECHNOLOGIES EXHIBITION and the BAKERY AND CONFECTIONARY TECHNOLOGIES EXHIBITION.
07.06.2018
In the context of this year's edition of Polagra Tech fair, we will cooperate with the Ukrainian Bakers' Association for the first time. This organisation has become an industry partner of the fair and it will promote the idea of the event among Ukrainian professionals of the industry.
18.04.2018
Two salons and maximum business opportunities. This fall there will be two exhibitions: BAKERY AND CONFECTIONARY TECHNOLOGIES from 30/09 to 4.10 and FOOD TECHNOLOGIES EXHIBITION from 1 to 4.10
More news
---

Reasonable combination = real benefits
Polagra Tech and Pakfood 2017